Be part of the 2019 Wine and Food Tasting and advertise your business in our program.
The programs will be a 4-color booklet which is distributed to every guest at the Atlantic Rec Center, March 2, 2019.
The size of the program is 6" x 9"
2019 Wine Event Program Advertising Rates & Specifications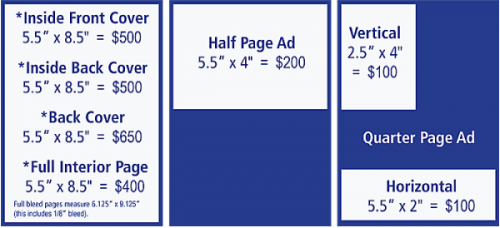 *Please contact Jodi Henson for the availability for Inside Front, inside Back and the back cover.
Rates are for advertising space only
Ad design, copy and other pre-press production costs are the responsibility of the advertiser
All ads submitted for publication must be print-ready
We accept 4-color ads as well as black and white
Artwork should be high resolution (at least 300 dpi) and in pdf, tiff or jpg format at 100% size

Deadline for ads is February 15, 2019
Click here to download the spec sheet
For questions and more details contact John Kublbock.